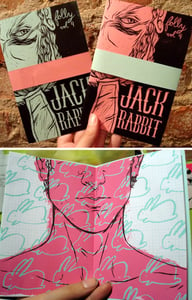 $

15.00
JACK RABBIT, Folly vol.4 booklet/pin-up (2008).
This colorful booklet is another french-door fold creation--3 interior spreads with a exterior wrap-around cover. However, this little guy has a lino-cut dust jacket in either Mint or Bubblegum pink. Inside, the screenprinted booklet contains a three-color print of jack rabbit illustrations. Simply put, shirtless dudes in bunny ears, possibly wresting? ART.
-----
4" x 6" folded, 12" x 16" unfolded, 3-color screenprint (pink, mint, brown) on lightweight beige archival paper. Available with MINT (ONLY TWO LEFT) or BUBBLEGUM lino-cut dust jacket and alternating belly band. Edition of 25.
***Remember to select which color you prefer with the drop-down selection***