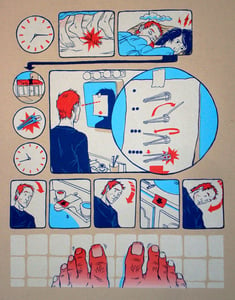 $

25.00 - On Sale
Ever had a boyfriend with ridiculously long sharp toenails and no way of telling him that he should trim more often? Ha, yeah me neither.
If you ever did, however, I imagine this handy screen-printed guide would provide a word-free solution on navigating the awkwardness of the situation that's concise and easy on the eyes. Not only is it four rich colors (red, white, navy blue and sky blue) printed on heavy-weight French Paper Speckletone, but it may even help you avoid potential boyfriends who are toenail-trimming impaired.
Measures 17" x 21", edition of 15. Each print is signed and numbered by your truly, and lovingly shipped to you in a sturdy cardboard mailing tube. Remember, an edition of 15 does not mean 15 are available--but rather that only 15 exist in the world. So snatch 'em while you can!